NEW HAPPY HOUR SPECIALS!
Every Day*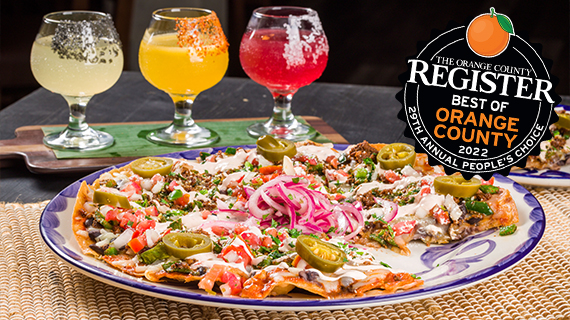 Stop by the Cantina to enjoy food and drink specials starting at $4, Every Day* from 3pm – 7pm.
Food and Drink Specials:

$4
Street Corn, Queso Dip, Papas Calientes, Draft Beer Pint, Well Drinks, House Wine

$6
Potato Chorizo Taquitos (4), Mini Tacos Steak & Chorizo (4), Sopes Grilled Chicken (3), Signature Margaritas (+ $1 Fruit Favors), Real del Valle Tequila Shot, Call Drinks

$8
Beef Birria Tacos (3), BBQ Carnitas Sliders (3), Chicken Flautas (4), Watermelon Candy Shot, Mojitos, Jalapeño Cucumber Margarita

$10
Shrimp Tacos Gobernador (3), Salmon Tacos (3), Mexican Pizza, Margarita Flight (Signature, Mango & Blackberry), Classic Paloma, Spicy Piña Margarita

$15
Bud Light Bucket (5)

We're extending Happy Hour in the Cantina during all Pro Football Games!
Mondays & Thursdays:
Happy Hour Food & Drinks, 3pm-Close
Sundays:
Happy Hour Drinks, Open-Close
Happy Hour Food, 2pm-Close
*Happy Hour days and times differ at Redondo Beach, Marina del Rey, Monterey and Dana Point locations.